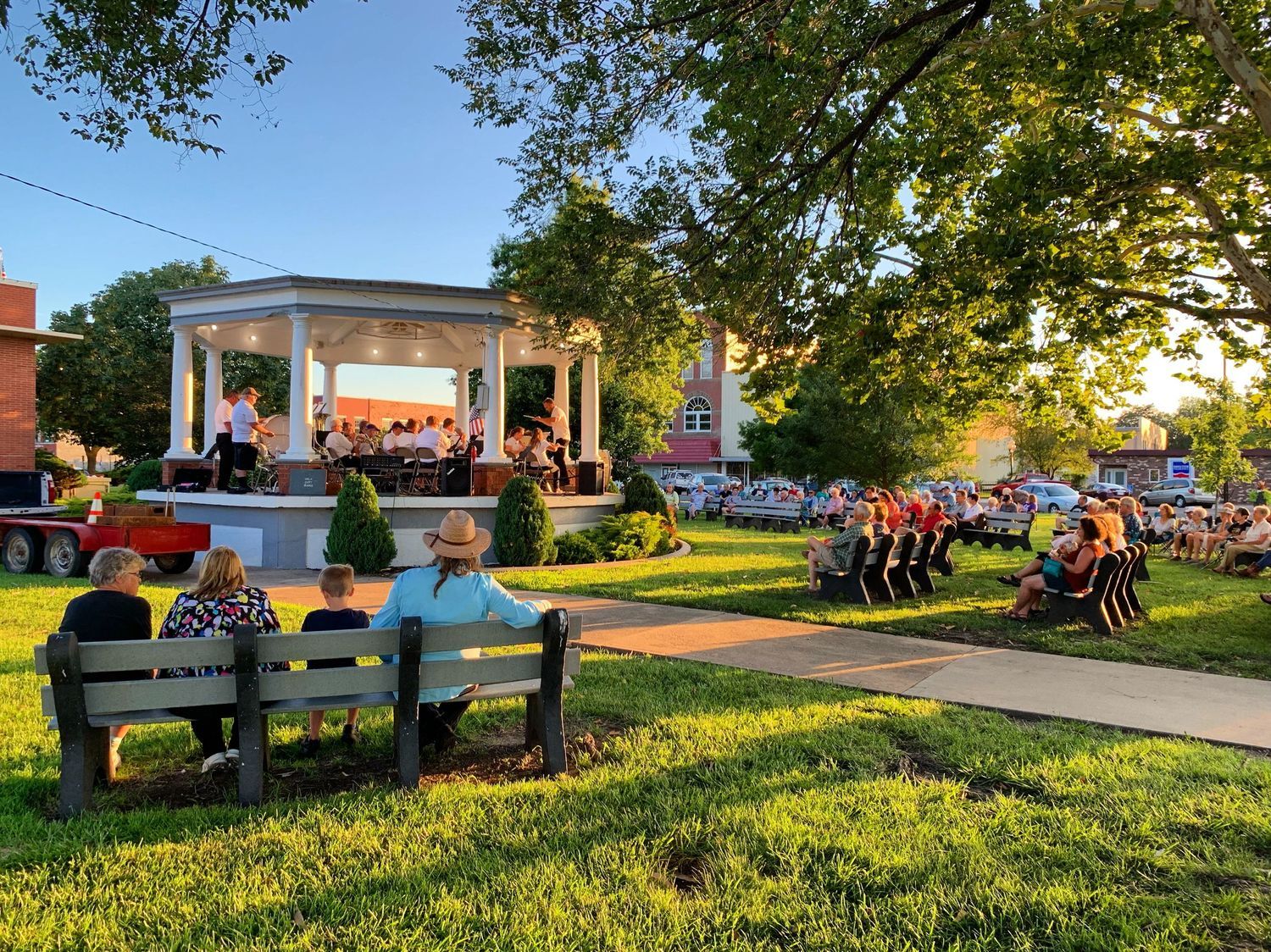 IOLA MUNICIPAL BAND ICE CREAM SOCIALS
Join us every Thursday evening during June and July to listen to the Iola Municipal Band play from the old bandstand located on the northwest side of the courthouse on the Iola square. The band plays at 8 p.m., but the crowd gathers much earlier to enjoy the ice cream and sweet treats served by local nonprofit organizations as a fundraiser to gather donations for their group.
The Iola Municipal Band has presented these free summertime concerts since 1871, making them the longest continually performing city band in Kansas and one of the oldest in the country. The band program is printed each week in the Iola Register, but Iola residents are quite familiar with the routine. Every concert begins with The Star Spangled Banner and ends with a John Philip Sousa march. Broadway medleys, the State Song, Home on the Range often get top billing.
Performances draw people of all ages. Music lovers sit on park benches, blankets, lawn chairs, or in their cars.
Visit Iola Municipal Band for event schedules, band programs, and weather cancellations.
---
Upcoming Ice Cream Social Hosts
| DATE | HOST ORGANIZATION |
| --- | --- |
| 6/1/2023 | ACMAT |
| 6/8/2023 | Veterans |
| 6/15/2023 | Senior Thrift Center |
| 6/22/2023 | Wesley United |
| 6/29/2023 | Humanity House |
| 7/6/2023 | Veterans |
| 7/13/2023 | SEK-Health Dept |
| 7/20/2023 | Yates Rehab |
| 7/27/2023 | |
---
HOST AN ICE CREAM SOCIAL
Do you have an organization that would like to host a Thursday Ice Cream Social as a fundraising opportunity for your group? 
It's a fun and easy way to raise funds for your local organization and interact with the public while promoting your cause! Fill out the form below to become a host and see what Thursdays are available. If you have questions, enter them in the form below or give the Chamber a call at 620.365.5252.