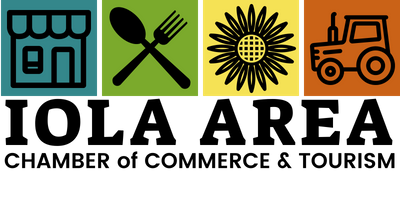 Join the Iola Area Chamber today!
Research shows, affiliation with the Chamber translates into business results. From networking and educational events with great tools and resources, to advocacy with key legislators for business-friendly legislation, the Chamber is constantly striving to provide the best services to our members to help them with their business needs and attract tourism to the area.
Chamber membership is a proven investment to grow your business and create a better Iola and surrounding areas. We strive to drive economic growth and community advancement throughout the area, with a vision to make Iola an ideal place to grow companies, careers, communities and families.
We are your voice to legislative bodies and your resource for professional development opportunities. We respond to the specific needs and interests of our diverse business members by providing tailored, value-based business, employee, educational and personal development experiences.
The opportunities for growth and prosperity that come with Chamber membership are waiting for you. Come be a part of it.
Join us!