---
Trunk or Treat
Each year around Halloween, the Iola Area Chamber of Commerce & Tourism coordinates the Iola Trunk or Treat on the east side of the downtown square. Decorated and candy-filled trunks will line the street ready to treat the ghouls, goblins, fairies, princesses and superheroes of every kind! Each year Trunk or Treat is bigger and better than ever!
This FREE event is a night full of safe family fun, music, food and fall activities throughout the duration of the trunk-or-treating!

You can participate in MANY different ways:
   - Bring your kids and costumes and trick-or-treat at the candy stuffed, decorated trunks lining the east side of the square
   - Decorate a Halloween trunk and bring lots of candy to hand out to the kids in costumes 
   - Donate candy and goodies to the Iola Area Chamber to provide more treats for the visiting trick-or-treaters 
         (monetary donations accepted as well - see bottom of this page for more information)
   - Have a food truck? Contact the Chamber Director about setting up for the event.
If you have any questions, please contact the Chamber Director at 620-365-5252 or chamber@iolachamber.org
A special THANKS to our businesses and community members who participate with their trunks, candy, food, drinks and MORE!  
MAKE A DONATION
Iola area businesses. organizations and community members are welcomed to help our Iola area kids have a fun and safe evening of trick-or-treating by donating to the event. Candy and goodies can be donated by visiting the Iola Area Chamber of Commerce office at 205 E Madison, Iola, KS. Just inside the east entrance of the Bowlus Fine Arts Center. 
OR 
By making a monetary donation for the Chamber to purchase candy, goodies, games and more for the event. 
CLICK HERE to view the full photo album from the
Trunk or Treat event on Halloween, October 31, 2019.
---
SANTA HOUSE
Santa's House is brought to the southeast corner of the Iola square each year so that Santa may come and visit with the area children before Christmas! Iola Downtown Square - 109 E. Madison, Iola, KS 66749
Santa will be visiting his home here in Iola on the following dates and times:
Thursday, December 5th at 4:30pm - 7:30pm
Thursday, December 12th at 5pm - 7pm
Saturday, December 14th at 10am - 2pm
Bring the whole family and step inside his warm and cozy home to meet dear Old Saint Nick.
On all of the Santa House dates, there is also more to experience after sitting on the big man's lap. 
Kids can climb aboard to ride on the Iola Kiwanis Club Train or the whole family can take a spin around Iola for a Holiday Lights Tour on Iola's Trolley - Fearless Fred sponsored by Personal Service Insurance, Inc. and Loren Korte. We also invite you to enjoy hot cocoa and cookies provided by businesses and organizations in Iola. 
Also, for a special surprise on December 5th ONLY, Santa will also be bringing his REINDEER! Yep, this is a real, live Registered North American Reindeer that will be posted up just outside of the Santa House on the Square for families and children of all ages to come see.
Hot cocoa and cookies will be provided by Landmark National Bank of Iola, plus candy canes and photos in Santa's sleigh provided by American Family Insurance Associates of Iola and Yates Center KS. Kids will also be able to take home their very own Reindeer Feed provided by The Feedlot to guide Santa's reindeer to their house on Christmas Eve.
All of this is at no cost! Our amazing businesses and community members have pitched in to bring a stress-free, cost-free Christmas evenings.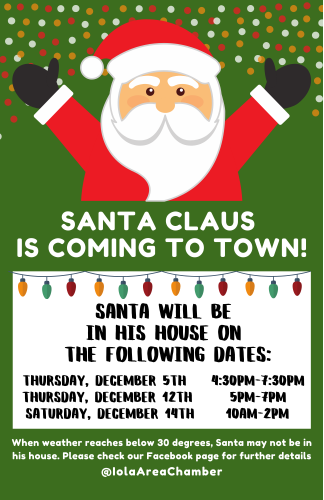 Click on the image below to view the full photo album from the
Santa House and Reindeer event from Thursday, December 5th, 2019.
---
DOWNTOWN IOLA ANNUAL CHRISTMAS BLOCK PARTY
Come celebrate the season with the Downtown Iola Square businesses for the Annual Downtown Christmas Block Party!

Friday, December 6th
4:00pm - 7:30pm
around the Downtown Iola Square

Shop in the downtown merchants and visit all downtown businesses while they are open late to participate in the Walk the Block Punch Card Drawing. The grand prize for the drawing will be a plethora of gift cards, gift certificates and MORE!

And that's not all... Find Santa wandering the square to make sure he has you on the nice list, pick up some treats by our holiday vendors coming to the square like the Nut Hut, Perry's Pork Rinds, and Simply Delicious, get your sweet tooth fix by stopping in Thrive Allen County to shop Russell Stover Chocolates AND step out to the pocket park between Thrive and Sophisticated Rose to join in on some killer karaoke.

We've got MORE! Afterward, visit our downtown participating restaurants for holiday specials OR check out the m-pact: White Christmas performance at the Bowlus Fine Arts Center starting at 7pm.

Downtown Iola and the Iola Area Chamber of Commerce are teaming up to bring you this spectacular evening of Christmas festivities at the Spirit of Downtown Iola Annual Christmas Block Party of 2019.